As we enter a new year, thoughts are often cast to resolutions, spring cleaning and fresh starts. January poses the perfect time to test out a new look or try your hand at a new skill. What have you got planned for 2021? We are now spending more time than ever at home. This means people across the country are tackling those home jobs they've been putting off. This could be anything from clearing out the garage or putting a lick of paint on a tired wall. Home renovations and DIY projects are more popular than ever. With the rise of sites like Pinterest, we can spend hours scouring the internet for the latest trends and DIY hacks, with #design and #interiordesign being some of the most popular hashtags on the platform.
In recent years there has been a rise in popularity in bespoke furnishings and features for the home. This truly makes it yours. Uncommon features and colours are proving very successful and make for a great social media post, too. When choosing a unique or out of the box feature for your home, it's important to work with context in mind. This will ensure it doesn't end up looking tacky. Be mindful of what is around it to ensure each element of the room compliments each other. For example, pairing garish colours together can look contemporary when done in a tasteful way. However, too many can clash.
Unique Kitchen Worktops
If you are thinking of treating yourself to a new feature in 2021, one of the best places to start is the kitchen.  Often seen as the hub of the home, even refreshing a single feature makes a huge difference in transforming a tired area. Our team at Surrey Marble and Granite are apt at creating seamless designs for features all over the home. We incorporate the appropriate colours and materials for the room to bring it to life. Our beautiful worktops are available in a range of stones, including marble, quartz and granite. In today's blog, we are going to explore how to style unique kitchen worktops in 2021.
Marble
Where would a blog about kitchen worktops be without a section on marble? This stone is absolutely timeless, believed to be first used in 438 BC and now a staple used all over the world. Marble simply exudes glamour and luxury, with its iconic pattern mimicked everywhere from mugs and plates to clothing and accessories. Although a bigger investment than some of its alternatives, marble is still ever popular for its durability and longevity. If simple maintenance steps are carried out, marble will last for up to 15 years. We offer marble in a vast range of colours, with unique veins and flecks for texture.
How to Style Marble
The classic white marble with silver veins is perfect to compliment a daring cabinet colour, such as black. The monochrome colours work well together, with the crisp white tuning down the harsher black. As well as the traditional colours, we can fit marble worktops in anything from Green Guatemala through to Giallo Siena, a gorgeous yellow shade. Giallo Siena is sure to brighten any room. Pairing with sophisticated grey cabinets makes for a unique look which works with traditional and contemporary features. Green is so often overlooked in comparison to its monochrome counterparts. However, this shade brings a real earth balance into any room. This calm colour is great, in that it will work with most other shades, including white, black or for something really bold, why not try a rogue? Being on the opposing sides of the colour wheel, these two shades compliment each other for a unique finish.
Granite
Granite worktops are our most popular in the UK, being such a durable material with a gorgeous aesthetic. All of our granite stones are resistant to scratches, heat and stains, making them ideal for the busy kitchen area. Many of our granite stones come heavily textured which creates a beautiful mix of colours. This creates a bespoke tone in the room. One of our favourite pieces of Granite stone is Lemurrian Blue, a beautiful mix of green and gold with veins of electric blue. Juperana Bordeaux is a unique red with tones of brown, a great way to introduce a primary colour to your kitchen without being too bold. We would recommend sticking to the monochrome colour scheme when complimenting a red, with white, grey and even black working really well alongside this fiery shade. Black and red are a timeless combination which when done correctly, looks astonishing.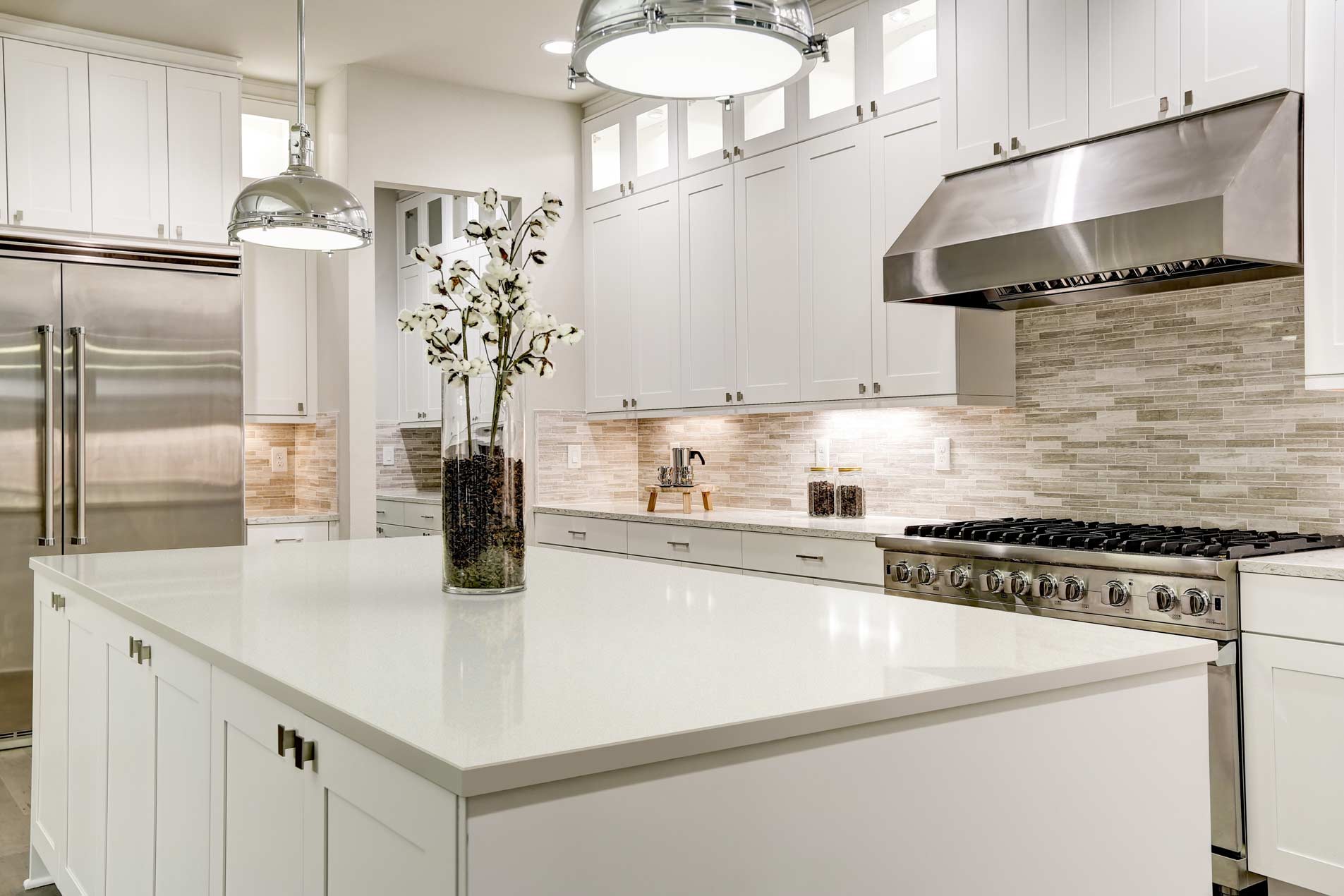 Quartz
Quartz is the perfect meeting of nature and science, with this manmade stone steadily rising in popularity over recent years. Quartz's minimal maintenance requirement means you can enjoy the aesthetic with limited upkeep, the best of both worlds. This stone is particularly strong, making for a durable material for worktops which is scratch and stain-resistant. Available in a variety of styles in our popular monochrome shades, we can also fit Quartz worktops in a range of unique colours. Alumino Nube is a beautiful muted blue shade, reminiscent of the colour of the ocean. Wood tones go very well with blue, and for Alumino Nube a dark pine cabinet would work perfectly in a rustic, traditional kitchen. If you are after something bolder,  Verde Stelline is a dazzling emerald shade with unique texture which is sure to wow guests. Such a gorgeous bright colour works well with white cabinets which allow Verde Stelline to steal the show.
If 2021 is the year you are ready to introduce a unique kitchen worktop into your home, let our experts guide you. We work alongside you from initial design through to seamless installation to ensure your worktop is everything you want, and more. Our designers understand colour schemes and can recommend the right materials for your property, and budget. For further information or to enquire about your new worktop today, get in contact with our team.